<![if !vml]>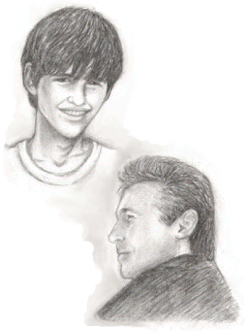 <![endif]>The year is 2007, and Trevor Gage has recently turned fifteen.† Suddenly, being Trevorís father isnít such an easy task for John Gage, any more than being Johnnyís son is an easy task for Trevor.† A stubborn battle of the wills often ensues, as Trevor attempts to assert his independence, while at the same time, Johnny is forced to stifle that independence whenever it threatens to lead Trevor in to trouble. After one too many battles, Trevor decides a change is in order, and leaves his fatherís home for what he is certain will be greener pastures. When tragedy strikes and Johnny needs his son by his side, will Trevor return to his father, or turn his back on him?
<![if !supportEmptyParas]> <![endif]>
A Fatherís Love is posted in four parts of approximately fifty pages each, and includes scenes that display Johnny and Royís friendship, as well as Johnnyís friendship with other members of the Station 51 crew.
<![if !supportEmptyParas]> <![endif]>
Cover Art By: Ria
<![if !supportEmptyParas]> <![endif]>
<![if !supportEmptyParas]> <![endif]>